This year, one our goals was to be more focused, targeted, and intentional about how we support the WordPress community. One method we chose toward that end was to support and/or sponsor groups or people who are already doing important work. 
And one of the first people to come to mind was Jill Binder.
I met Jill in 2019 when we were both put on a team to build a workshop for WordCamp US. We have remained in touch and have supported each other since then. 
Her series of Diverse Speaker Workshops, in partnership with Automattic, are an important effort to bring more support and mentorship to people who may not feel equipped, prepared, or qualified to speak at WordPress events. WP Buffs is beyond proud to boost awareness and support of this effort in whatever means we can. 
In an effort to learn more about these training workshops, I held a brief interview with Jill. 
How did you get started providing this kind of training?
It happened in 2013. At WordCamp Vancouver, we only had 7 out of 52 speaker applications from women and other underrepresented groups. Then we had only 14% diverse speaker representation.
People were not happy. Several folks in our audience spoke to us privately or even wrote blog posts about it publicly.
I started talking to other WordCamp organizers, I did research, I talked to people in my community, and I discovered that the problem was those of us who are from a marginalized or underrepresented group tend to feel like we have nothing to talk about or that we don't know enough about anything to give a talk.
I felt defeated… until a feminist friend suggested I hold a brainstorming session. That one idea turned into what is now a whole 4-hour workshop! This workshop was created by a team in Vancouver and contributed to by the WordPress community around the world.
What do you find is the largest barrier that prevents people from speaking in the first place?
Here's the thing: Typically, when a member of a well-represented group of a community knows a little bit about a topic, they feel like they know enough to give a talk about it. They've seen many faces like theirs up on stage before. Conversely, when someone from an underrepresented group knows a little bit about a topic, we frequently don't feel we know enough to talk about it. We don't see people who look like us presented as experts. Also, many of us set a much higher bar for "expert" knowledge than other people do.
236 #WordPress Participants from marginalized and underrepresented groups.

87 Cities in 26 countries.

The work @jillbinder and many others in the #WPDiversity Community have been doing is worth recognition and support! Learn more below!https://t.co/Aq5hzXFtwM

— WP Buffs (@thewpbuffs) November 27, 2020
How has quarantine and the inability to see people face-to-face affected the work you're doing?
Hmm, good question. About 80% of my work was already online because I work with a global audience. Now it is 100% online, even for local events. I still work hard to ensure that my workshop participants are engaged and connecting with me, even when online. This helps them learn the material better, and they have more fun with the workshop too.
The biggest change would probably be the material itself. I am trying to put less focus on speaking on an actual stage, and more focus on the experience of speaking online.
Can you tell me about a time when a participant in one of your workshops taught you something?
Absolutely! Participants teach me things all the time. I am grateful for how much I get to learn.
One example is when a participant talked to me about the struggle I was having with learning people's names. He explained that people from cultures different from my own are always having to work hard to fit in and be accepted, and that this is one small effort I can do to make people's workshop experiences more comfortable.
So now I take the extra couple of minutes to google any unfamiliar names before each workshop. It is an easy effort, and most names out there even have an audio so I can actually hear it.
When I do this, I show that I'm trying, and it's also more likely that I will remember the person's actual pronunciation, even if it is different from what I had learned.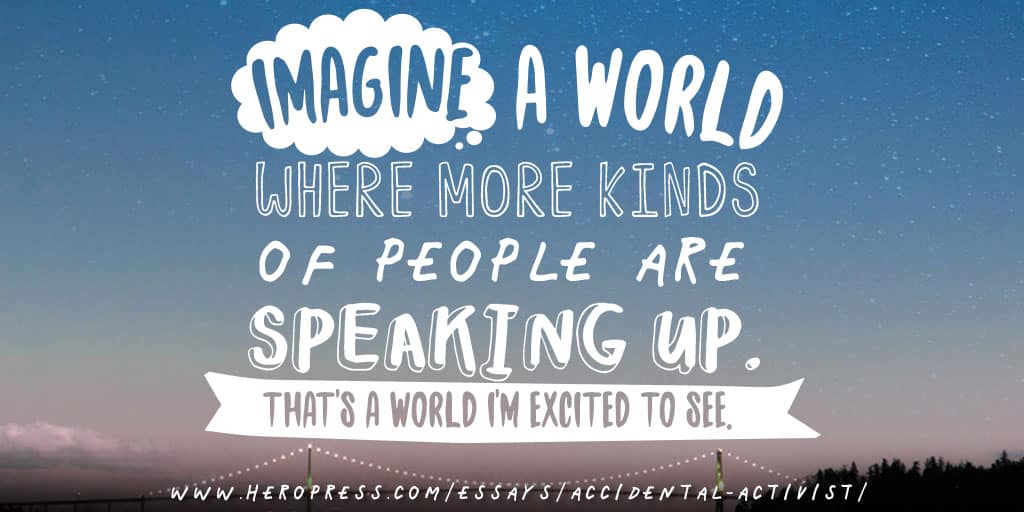 What has been the largest change or leap you've seen in your time? (For better or worse?)
In my time, it was definitely this year: George Floyd was a big catalyst for much-needed change. More people are recognizing the need for change, though there is still a lot of work to be done.
Communities are being called out more for lack of action or outright wrong steps, and so community organizers are looking for tangible, actionable solutions like ours. I feel like our group's work is at the right place and right time to help make this shift. Even more importantly, it is creating space for voices that need to be heard.
What differences, if any, do you see between the WordPress community and other communities?
I think that the WordPress community is more diverse and inclusive because of the friendly community and how easy it is for people to start learning WordPress technology. This isn't the case everywhere in the world, of course, as different regions have different challenges around diversity, but from my experience with other technologies, it is the case in WordPress more often.
This is one of the things that got me into the speaker diversity space: At our events, we had such diverse audience members and contributors in our community, so why didn't the people on stage look like our community?
For most of this year you've been hosting workshops geared toward getting more people to become speakers. Is that your continued goal moving forward?
That's a great question. And it is a question that we are asking ourselves, actually!
Prior to 2020, we were teaching meetups how to run our workshop for their communities themselves. Given the events of 2020, I started delivering portions of the workshop to the community directly myself, online.
Now, our group is taking a 20,000 foot view to re-imagine the work we are doing for this coming year again. We are inviting everyone's input.
Given the world changes this year, and ongoing changes in 2021:
What would be the most impactful way to help organizers get more diversity in WordPress speaker lineups? (not just gender, but also race, class, sexuality, ability, age, etc.)
What new barriers do you see coming out of 2020 that are likely to be factors in 2021?
We would like to hear from YOU. Could you please share your feedback on this post by December 18th, 2020.
P.S. We are re-imagining for 2021, and we'd love to hear your thoughts!https://t.co/66M0MjjRYL

— Jill Binder (she/her) (@jillbinder) November 25, 2020
I like to think that people lean toward being supportive of others in the way that you are. What can the WordPress or wider tech community do to support you or this kind of work?
Aw, I am so touched by this wording. Thank you, Allie.
We would love support!
We would really love feedback in the comments on [Input Requested] Re-imagining the work of the Diverse Speaker Training group (#WPDiversity).
It is very important to help inform the future of our group's work.
Also, if anyone is interested in making a real-world, tangible impact with an inspirational group, we would love your volunteer help on the Diverse Speaker Training group (#WPDiversity). Yes, allies are welcome too. To show your interest in seeing if our group is for you, please reach out to me via Twitter or the WordPress slack: @jillbinder. I will follow up with you in the new year.