Here at WP Buffs we like to pass along a quick look at new products as we're introduced to them, and Template Monster's new "ONE" recently caught our eye. So, here is our MonsterONE review.
MonsterONE is an all-in-one collection of creative resources and assets that meet a variety of design goals. Whether you're building a website from scratch, just want to make a few design changes, or are looking for a new template for your next presentation, their one monthly fee gives you access to it all. No matter how often you use it or how many websites you put it on.
How is this possible?
In This Article:
Introducing MonsterONE
Benefits of Using MonsterONE
MonsterONE Products
MonsterONE Licensing
MonsterONE Affiliate Program
Wrapping Up
Introducing MonsterONE

MonsterONE builds relationships with a vast collection of contributors. Their transparent policy allows contributors to submit their work right on the main website, removing the marketing barrier for the artist. All work is fully vetted before it appears on the site and contributors are guaranteed payment within the first five days of each new month.
On top of curating the assets, MonsertONE also manages support.
How They Get Contributors
This is a huge benefit to both the contributors and users as each subscription comes with 24/7 support. That's instant general assistance in chat or extended product support in the ticket system to handle all of your requests. Users get the help they need without the contributors answering a thing.
Who This Service Is For
Intrigued by this new subscription-based resource solution? Consider these ways you might put it to work for you:
Graphic designers can save time by finding quality, reusable assets to supplement their custom work.
Marketers and promoters can quickly find resources for social media posting and corporate identity templates.
Website owners have easy access to resources they need to update their existing online projects whenever they feel like it.
Anyone can find stock photography without taking high-quality pictures themselves.
Benefits of Using MonsterONE

MonsterONE's flexibility continues into its pricing plans. You can choose monthly, yearly, or lifetime, each with increasing benefits. Start monthly, upgrade as needed, and cancel anytime.
Unlimited downloads for unlimited projects all on unlimited domains and 24/7 general support might seem like a lot, but MonsterONE offers even more. Subscribers are also able to take advantage of special deals and offers from MonsterONEs partners.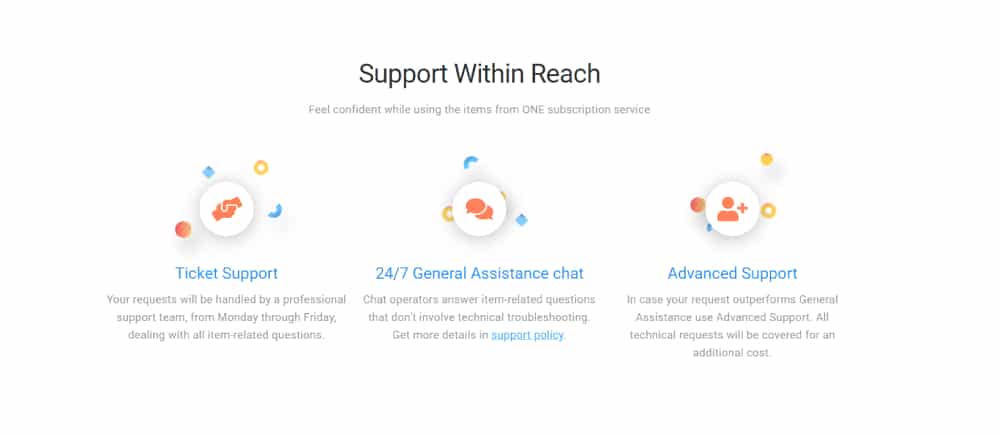 For instance, right now subscribers can use the Draftium tool for one year without any additional cost. What a great way to try out this unique instrument for site prototyping and collaborating with your team. On top of that, subscribers currently receive a 35% discount on assets not included in the subscription.
MonsterONE Products


Depending on the subscription you buy, MonsterONE has dozens of categories with ready-made solutions for highly popular platforms. The collection is updated regularly, so if you don't see something at first, check back. For now you can download:
WordPress and other CMS themes
Elementor kits
HTML templates for admin sites, landing pages, newsletters, and other purposes
eCommerce themes for WooCommerce, Shopify, OpenCart, PrestaShop, Magento, and others
plugins for PrestaShop
Graphics including PSD templates, logo templates, illustrations, resume and certificate templates, infographics, animated banners, patterns, background, product mockups, and others
Presentation templates for PowerPoint, Keynote, and Google Slides
Video and audio assets including both stock media and effects for popular software
3D models
Stock photography.
MonserONE really does cover all the design assets you're looking for. And because they're network of contributors is always creating, the selection changes weekly. What a great way to keep your presentations and websites looking fresh without having to take the time to create assets yourself!
In addition, MonsterONE's marketplace also features best selling items for Monstroid2, Woostroid2, Brave Theme, Intense2, Eveprest; and many others.
MonsterONE Licensing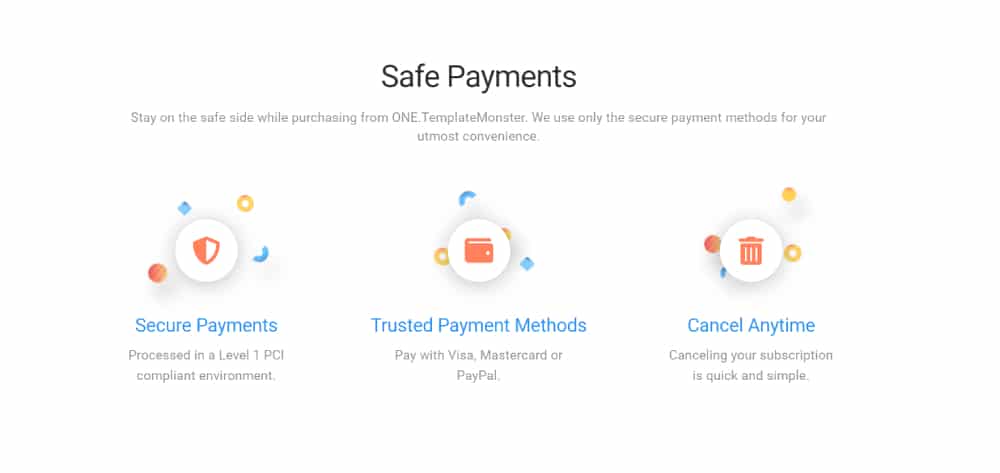 It's always important when talking about digital assets to have a clear understanding of the licensing. MonsterONE does an excellent job of laying out their licensing terms clearly and concisely. You'll easily be able to find what is allowed, what is prohibited, and what happens if you cancel your subscription.

Make sure to take a moment and read through this yourself. Misused digital assets can cause a huge headache that you do not need!
MonsterONE Affiliate Program

Finally, let's take a look at the MonsterONE Affiliate Program. Here's your chance to make your investment in MonsterONE work even harder for you. With their program, you can earn up to 30% commission for every new customer you refer to MonsterONE.

Along with that, you'll also receive a personal affiliate assistant, commissions from sub-affiliate sales, access to a rich set of free promotional tools, and access to the affiliate dashboard to track stats and sales.
And if you're a creator, you can be both an affiliate and a contributor to receive an even bigger payout. Talk about getting the most out of one resource.
MonsterONE Review Summary
If you're looking for limitless digital products to update your website, marketing materials, and presentations, then MonsterONE has a lot to recommend it. 24/7 support, additional offers, an affiliate program, and free cancelation anytime are just a few of the perks that make it hard to resist.
So, don't. Take a few minutes to see if MonsterONE is right for you, and remember to use the promo code wpbuffs for your additional discount!